JBoss EAP/AS <= 6.* RCE - A little bit beyond \xAC\xED
Time to "leak" this old (but gold) pre-auth RCE affecting some of the Red Hat products.
As stated by @joaomatosf this is an old but gold vulnerability found by himself and shared in two distinct security conference in Brazil, this vulnerability was part of a training he gave alongside with two other colleagues, check his tweet.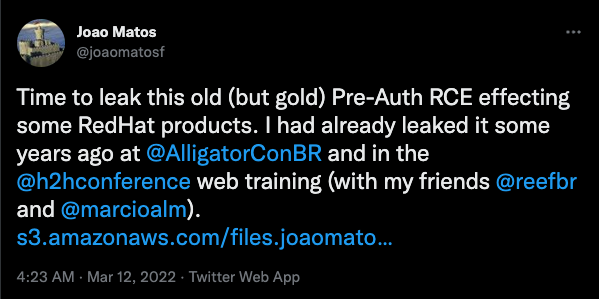 Technical details are available in the slides from the Alligator Conference 2019.
Back in time, I did use this vulnerability as a stimulus to write some Rust code, so forgive me any non-sense.
Cargo.toml
[package]
name = "j-is-d-boss"
version = "0.1.0"
authors = ["jespinhara"]
edition = "2018"

# See more keys and their definitions at https://doc.rust-lang.org/cargo/reference/manifest.html

[dependencies]
clap = "~2.33.3"
hexdump = "0.1.0"
main.rs
To use this exploit, create a malicious java payload using the well-known ysoserial, which I personally use @pimps modified version, then:
# ./j-is-d-boss -t [TARGET] -y [payload.ser] -p [PORT]
"Funny" enough, Marcio's python exploit has 20 lines and works like a charm. Keep it simple.
That's all cya folks!